Just as CrossFit Boxes around the globe were starting to reopen from the COVID-19 lockdown, CrossFit took another hit. CrossFit founder, Greg Glassman, is being accused of racism and misbehavior.
The controversy surrounding Glassman has many Box owners questioning the value of their Affiliation. Some have already announced that they'll be disaffiliating, many are waiting to see what happens next.
Glassman owns 100% of CrossFit, Inc. Some in the Community are demanding he relinquish ownership and install a board of directors. They say if Glassman doesn't surrender ownership, if changes aren't made, then they're out.
Developing Story: More Athletes Boycott The Games, Demand Ownership Change
"A growing coalition of CrossFit Games athletes and some of the biggest names in the sport have spoken up and have made their stance clear: They're out of the Games, until more change is made."
Changes are already happening. Glassman has retired, stepping down as CEO and promoting Dave Castro to the position. I trust that any further adjustments that need to be made, are being made. In my fourteen years of experience as an Affiliate, CrossFit is very responsive to its community.
News media and social media aren't helping
In the past week, there's been a media-firestorm of reports dropping one accusation after another, like mortar shells, on Glassman and CrossFit HQ.
The experience has left many in the CrossFit community hurt, angry, and confused. Much of the uproar appears to be a misunderstanding due to the way some media report the news, the way the news gets interpreted, and how quickly the news gets shared through influencers on social media.
I'm offering my perspective and opinion in the hopes that we can improve our ability to communicate and solve the many problems and challenges we face as a growing and diverse Community.
Considering the accusations
As far as I can tell, there are five claims feeding the uproar:
Glassman is accused of posting a racist tweet.
Alyssa Royce, and others, accuse CrossFit of not showing proper support for BLM and taking a stand against "racist injustice" in failing to make a public announcement on the CrossFit.com website.
Glassman is accused of sending a hostile email to Royce, a nine-year affiliate.
Glassman is accused of making inflammatory and insensitive comments on a Zoom meeting.
Glassman is accused of exhibiting inappropriate behavior with female staff.
Accusation #1
Glassman is accused of posting a "racist" tweet.
IHME posts statement to Twitter. Glassman comments.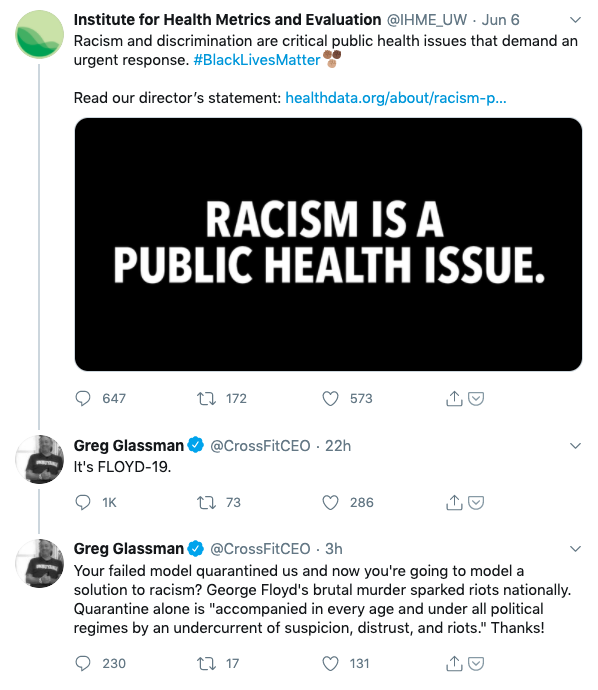 Glassman Tweet #1
Choose the best answer.
Glassman's tweet "It's FLOYD-19" is:
Elegant
Insensitive
Racist
I'm going to go out on a limb here and say it's elegant, "in a mathematical sense."
In order to begin to understand this, you have to first read the IHME Director's Statment.
Racism is a public health issue
Racism is a public health issue
Fighting health inequity means fighting against racism. Black lives matter.
Recent events including the killings of George Floyd, Breonna Taylor, Manuel Ellis, Tony McDade, James Scurlock, and Ahmaud Arbery testify to the racial injustice that persists across our country and within our communities. We share in the outrage and anguish expressed around the United States in response to the treatment of Black Americans by the police and the toll of police killings. And similar injustices are pervasive in many other parts of the world. We commit to working to produce the evidence that racism and discrimination are critical public health issues that demand an urgent response, wherever they occur.
IHME can and will do more to illuminate the public health impacts of systemic racism. We will undertake research to address racial disparities in a range of areas, including life expectancy, child mortality, education, and economic opportunity. We expand our work on COVID-19 to specifically examine the differential impacts of the disease by race. And we will make every effort to bring attention to police brutality.
We will do this work while making our own organization more diverse and inclusive.
We are committed to this fight.
Christopher Murray
IHME Director
Glassman tweet #2
Nineteen hours following Glassman's first tweet, he posted a second. This message was offered to help clarify his first.

Taking the tweet apart, it contains three messages:
Glassman claims it was IHME incompetence that put the country on lockdown. And expresses doubt that the IHME could do any better with racism.
Glassman believes, along with everyone else in the world, that George Floyd was brutally murdered.
Glassman offers a clue, in the form of a quote.
To understand Twitter, you need to know that a good tweet compresses as much content as possible into as few characters as possible. Glassman's two tweet combo was an example of excellent tweeting.
If you copy and paste "accompanied in every age and under all political regimes by an undercurrent of suspicion, distrust, and riots." into a Google search, you'll discover Lessons from the History of Quarantine, from Plague to Influenza A
It is an illuminating read.
When you search for the sentence Glassman quotes in the paper, you find it in the paragraph below.
Quarantine and other public health practices are effective and valuable ways to control communicable disease outbreaks and public anxiety, but these strategies have always been much debated, perceived as intrusive, and accompanied in every age and under all political regimes by an undercurrent of suspicion, distrust, and riots. These strategic measures have raised (and continue to raise) a variety of political, economic, social, and ethical issues (39,40). In the face of a dramatic health crisis, individual rights have often been trampled in the name of public good. The use of segregation or isolation to separate persons suspected of being infected has frequently violated the liberty of outwardly healthy persons, most often from lower classes, and ethnic and marginalized minority groups have been stigmatized and have faced discrimination. This feature, almost inherent in quarantine, traces a line of continuity from the time of plague to the 2009 influenza A(H1N1)pdm09 pandemic.
Apparently, riots routinely accompany "quarantine and other public health practices." Sadly, but not surprisingly, the drunk-on-controversy media didn't make the slightest attempt to investigate this.
Reaching out to Glassman, I sent him the email highlighted below. Like everyone else, I was attempting to read his mind. If I wanted to know his intent behind the tweet, I would have to ask him.
I thought your FLOYD-19 tweet was elegant, as you say, "in a mathematical sense."
It appeared to me that you were simply restating what the IHME was proposing in their Director's statement. However, you did it elegantly, using only five letters and two numbers.
FLOYD has the same number of letters as COVID and end in D. You did the same thing with the 5 buckets of death categories. You liked the "ic" endings.
I thought it was brilliant.
I also enjoyed your second tweet containing a clue in the form of a quote. I looked up the quote and found the Quarantine history report. It was eye-opening.
That tweet, along with its Trojan horse message, is being shared far and wide through the click-bait-media. The media think they're announcing your fall, but it feels like they're helping solidify our base, making us stronger.
People see what they want to see. If one assumes systemic racism exists, then one sees it everywhere. Even in a tweet. Unfortunately, people draw conclusions based on their own assumptions.
Maybe I too am drawing conclusions based on my own assumptions. My assumptions are that you're a good man fighting an impossible battle against impossible odds, and winning.
Thank you, sir, for everything you've done, and continue to do to fight for truth and humanity.
CrossFit Missoula will continue to support you, CrossFit, and CrossFit Health.
Glassman confirmed my assessment. He said he almost didn't post the "It's FLOYD-19" tweet because he suspected, correctly, that it would be misunderstood.
Glassman's tweet #3
Twenty-six hours after his first tweet, Glassman offers an apology.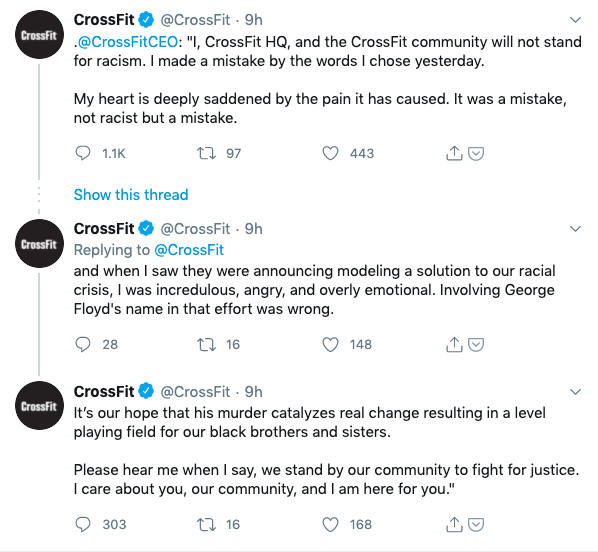 Did anyone in the click-bait media even bother to ask Glassman what he was thinking when he tweeted "It's FLOYD-19"?
Clearly, the answer is "no." The fake-news media doesn't appear to care about the truth. They want those advertising "clicks" and they don't care who gets hurt in the process.
For society to function, we must be allowed to speak our minds, clarify any misunderstandings, and make amends when mistakes are made. Because we all make mistakes.
This is how I would like to be treated. Wouldn't you?
In my opinion
Elegant tweet. The accusation of a "racist tweet" is a case of bad mind-reading. Apology accepted. Moving on.
Accusation #2
Alyssa Royce, and others, accuse CrossFit of not showing proper support for BLM and taking a stand against "racist injustice" by failing to make a public announcement on the CrossFit.com website.
The post on her website includes both her email to Brian Mulvaney and Glassman's response. Both of which you can find using the link below.
Royce's article: CrossFit, Black Lives and COVID
Quotes from Royce's email:
As Brady and I were both shaking our heads at this flaccid and irresponsible response, the George Floyd murder threw our country into massive unrest. CrossFit is the only major brand I can think of that has failed to take a stand, make a statement, show support for social justice in general and Black lives specific.
Especially now, because many affiliates are in crisis thanks to COVID. And certainly all of us in the US are living through unprecedented social unrest rooted very specifically in racist injustice. In both cases, CrossFit has either been absent or wrong.
Silence isn't avoiding drama. Silence absolutely is not "not taking sides." It takes the side of the status quo. In a fight against violence and oppression, silence takes the side of violence and oppression. There is no such thing as not taking a side at a time like this, some people just do it because they're too weak to do anything else.
Just because one believes "silence takes the side of violence and oppression" doesn't make it true. Some people prefer to do their work in silence and behind the scenes.
I don't approve or support the bullying tactics used to shame people into saying things they either don't believe or want to remain anonymous on. It's grotesque and should be condemned totally by freedom-loving people striving to coexist within a diverse, multiethnic society.
In my opinion
You don't get to bully or threaten someone who doesn't agree with you. In the United States, we have the freedom of religion and assembly. People can do what they want, so long as they don't hurt people and don't take their stuff.
Accusation #3
Glassman is accused of sending a hostile email to Royce, a nine-year affiliate.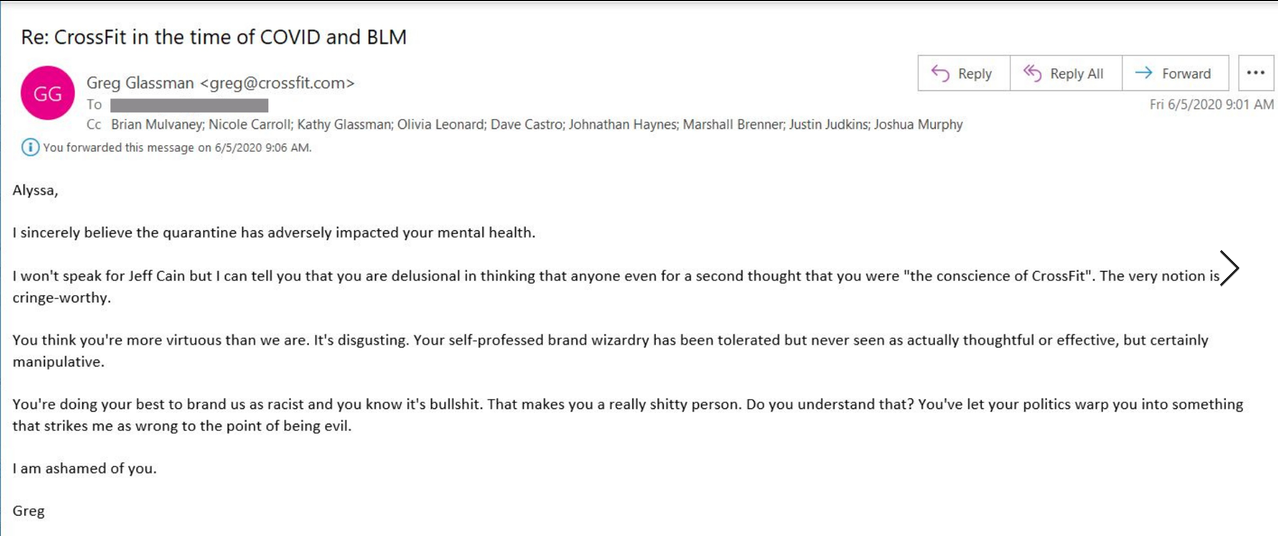 Glassman's response is a natural response to being accused of something as abhorrent as racism. It was the correct response. Everyone appears to have missed this.
"You're doing your best to brand us racist and you know it's bullshit."
With respect to Alyssa Royce, I don't know her or her situation. My comments are on the contents of her email to Brian at CrossFit HQ, not her as a person. If the email exchange between her and Glassman wasn't being used to help attack Glassman's character, I'd leave her out of it. And I wish I could.
The media and Games athletes have taken her side, which is fine with me. But if you're a Box owner on the fence about remaining an Affiliate, you need to read Royce's email to Brian. You don't want to base your most important business decisions on other people's opinions.
When you read Royce's email, put yourself in the recipient's position. Imagine the email is to you and is in reference to your Box, your leadership, your actions. Then, notice how you feel.
You can find Royce's email to Brian within the article posted to her Affiliate website through the archived link below.
Royce's article: CrossFit, Black Lives and COVID
In my opinion
This squabble is between Glassman and Royce. We shouldn't even be talking about it. It's none of my business.
Accusation #4
Glassman is accused of making inflammatory and insensitive comments on a Zoom meeting. Does this mean he's racist?
Glassman In Zoom Call To Affiliates: "We're Not Mourning For George Floyd"
The Medium post mentioned in the article above must have been removed. I can't find it.
Shortly after the COVID-19 lockdown in the U.S., I was invited to a Zoom call with Glassman, Affiliates, and staff. Glassman wanted to know how we were doing, and if we needed anything.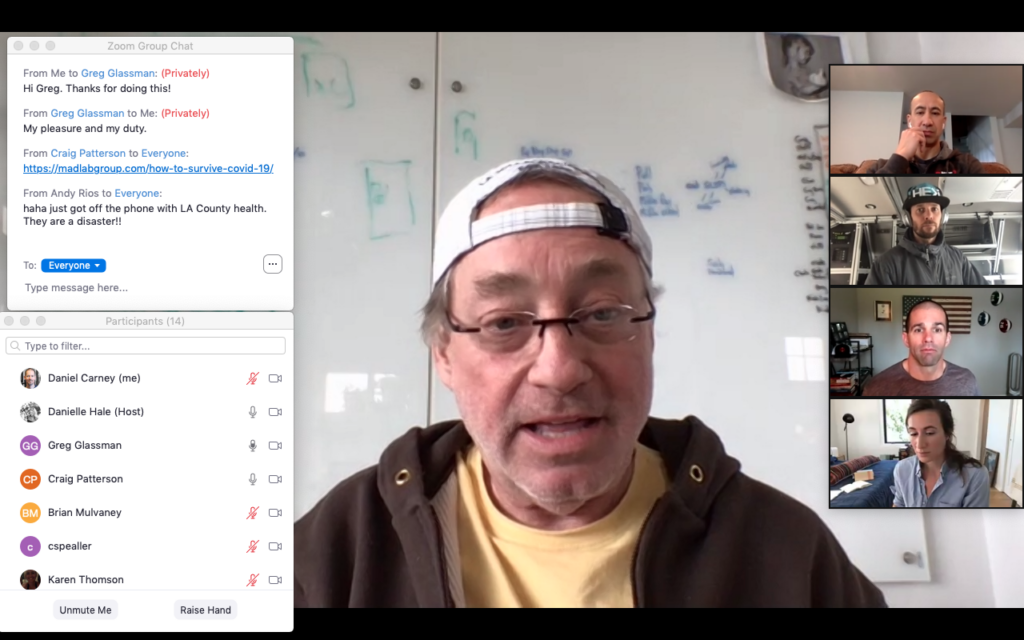 How many "roughly two-hour" Zoom calls has Glassman been on in the past three months? How many hours talking face-to-face with Affiliates?
The fact that we're talking about something Glassman said, instead of the monumental effort of a CEO to reach out to as many of his people as possible is stupid.
Anyone who's been on one of these calls knows that Glassman is there only because he cares deeply about the wellbeing and success of Affiliates. That what Glassman said, on a private conversation, is being used to bolster a character assassination is outrageous.
I don't want to live in a world where I need to worry that my private conversations will end up in the public space. Do you?
In my opinion
Everyone is entitled to their opinions, even if you don't agree with their opinions. Private conversations between individuals or groups should remain private. As with the tweet, attempting to infer whether Glassman is racist or not by what he said on a Zoom meeting is a case of bad mind reading. As with the email between Glassman and Royce, we shouldn't even be talking about it. It's none of my business.
Accusation #5
He acts inappropriately with female staff.
With respect to Andy Stumph, outside of his podcasts and YouTube channel, I don't know him. With everything he's accomplished in his military and civilian career, he's obviously courageous and intelligent. I'm only commenting on the content of his video, not the person.
Initial thoughts and questions I have:
Stumph talks about "golden handcuffs," non-disclosure agreements (NDA), "culture of fear" and such as to why he didn't speak out before. But why speak out now?
He called out Dave Castro and Dale Saran specifically. But he's also calling out every senior staff, CF L1 and L2 cadre that's ever worked for the company, past and present. Will we hear from any of them?
His accusations are anecdotal. Someone will need to step forward and validate his claims. If no one does, it's over. You can't prove a negative. Glassman has no obligation to take Stumph up on his offer to discuss it on a podcast. It's on Stumph to back his claim. Can he?
Shortly following Stumph's video release, Katrin Davidsdottir posted the following to her Instagram account.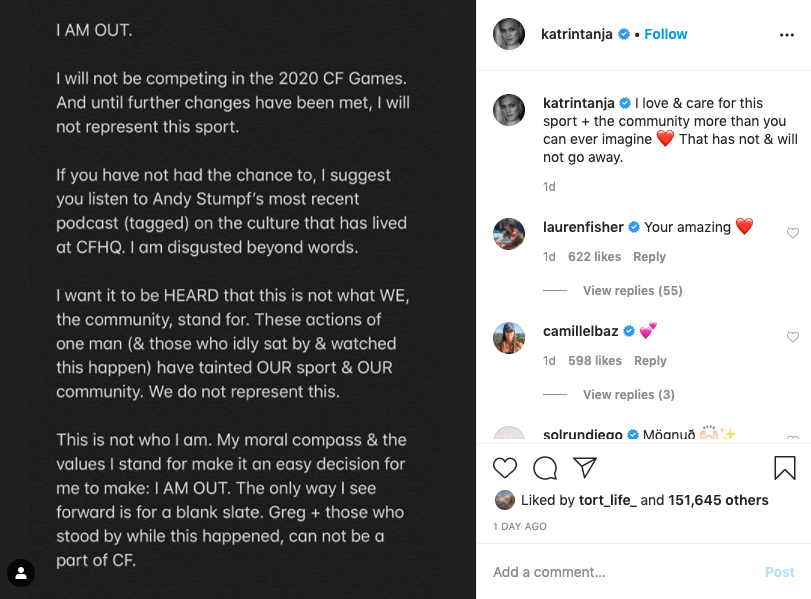 Whatever emerges from Stump's claim, it has had an immediate, rippling effect on the global CrossFit community.
In my opinion
Until I see evidence of criminality, this is just one man's opinion about another man's behavior around women. And it's none of my business.
Conclusion
All I can see in this media-driven controversy surrounding Greg Glassman is a lot of innuendo, bad mind-reading, and personal conversations that we shouldn't even know about.
CrossFit Missoula will remain affiliated. We trust that any changes that need to be made will be made. We trust Dave Castro and CrossFit HQ to do the right thing.