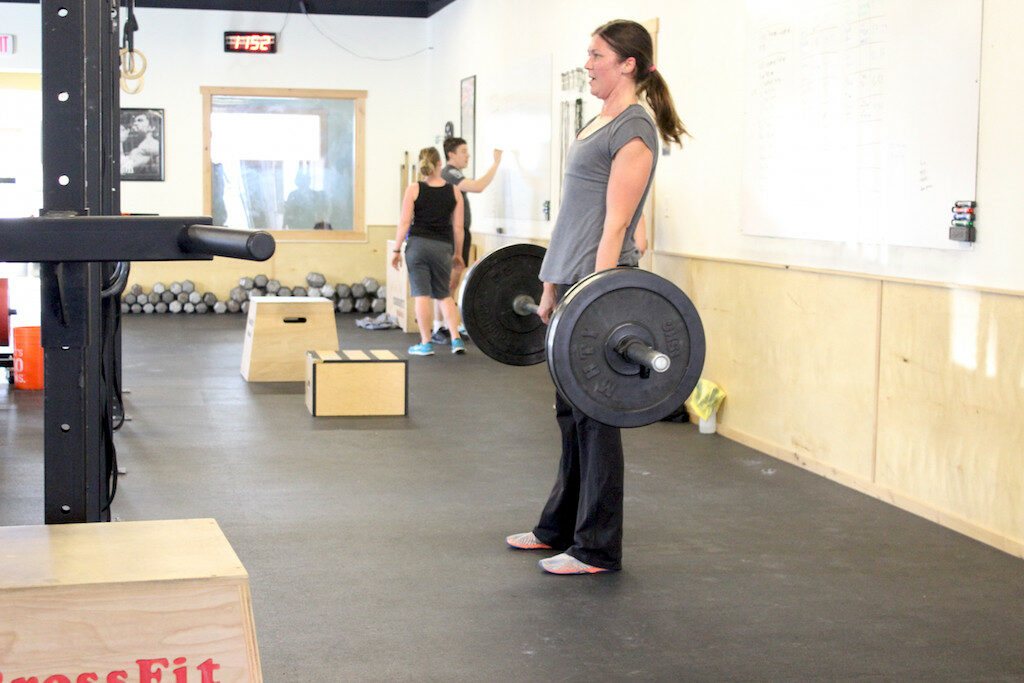 Tell us a little something about yourself: Where are you from? What do you do for work and fun? What is your sports & fitness background?
I am originally from Western North Dakota and moved to Missoula almost 10 years ago.
I am the office manager at Lambert Family Chiropractic and I am also in the process starting a vintage rental business called Vintage 44.
I enjoy hiking and rafting with the family. I also enjoy traveling and the great outdoors.
I don't have much of a sports/fitness background. I played basketball and softball in high school and have ran a handful of races.
When did you first start training at CrossFit Missoula?

I started at CrossFit Missoula in 2012.
How did you first get exposed to CrossFit? Describe your experience.
My husband, Anthony, was working out at CrossFit Missoula and after much convincing I joined. Joining was intimidating since you are doing some movements you have never done before and then asked to be transparent and write you scores on the board.
What's your CrossFit "super power"? What are you good at?
I recently found out I am good at the "farmer carry". I really enjoy deadlifts and running.
What's your CrossFit "goat"? What skill or ability are you currently chasing?

Any sort of squat movement is a challenge for me to keep good form.
What sort of changes have you seen in your body, health and fitness since starting at CrossFit Missoula?

Since joining CrossFit Missoula my body has leaned up and I have a lot more energy. I saw the biggest change after making nutritional changes during the CrossFit Challenge. My BMI dropped and started lifting more weight than I ever had.
Please share with us any favorite CrossFit Missoula moments:

I loved the "Murph" challenge because all the CrossFit Missoula members were working out together at the event. Another favorite is dynamic that makes up the 5:30 AM class, it a lot easier to get out of bed when you get to workout with great people.
What advice do you have for someone just getting started with CrossFit?

It is intimidating to walk through the doors of a CrossFit gym but so worth it. Celebrate small victories and make it a lifestyle change.
Is there anything else you'd like to share?

I can't say enough good things about CrossFit Missoula, as well as, CrossFit Kids Missoula. They have brought and continue to bring positive change and good health to my family and our lives.