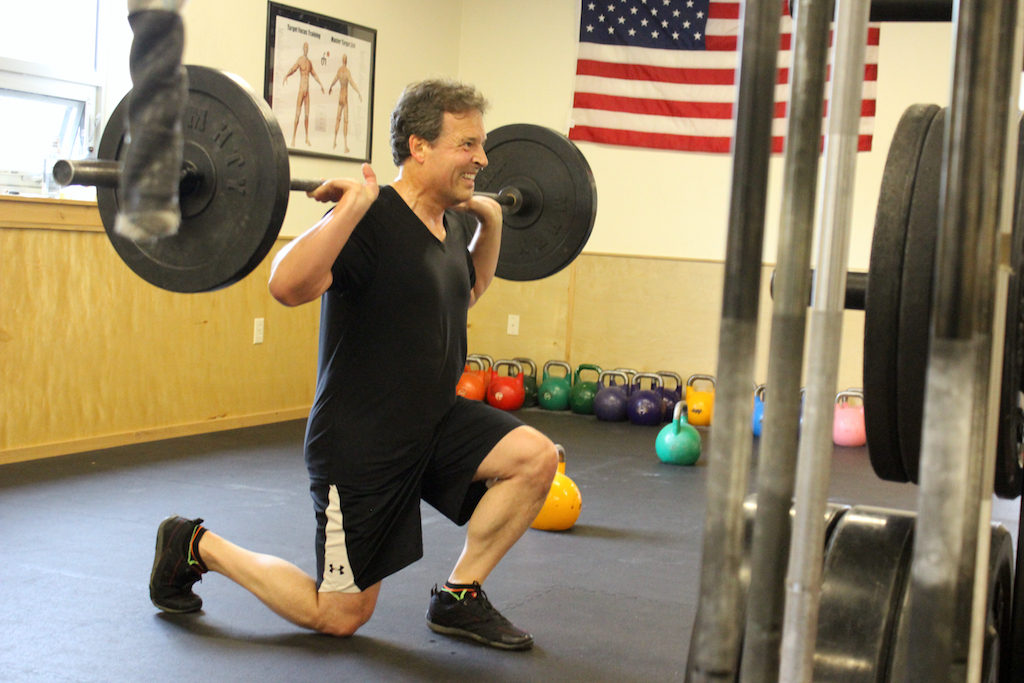 Where are you from?
order viagra online Great Falls but I've lived in Missoula since college.
When did you first start training at CrossFit Missoula?
go 2005 at the Peak with Daniel when it was "CrossFit-like" training and then officially at Daniel's first CrossFit Missoula box since it opened in 2006.
Tell us about your sports & fitness background:
go I've engaged in some sort of rigorous physical activity almost continuously since I was about 12 years old. As a kid I played hockey, basketball, football, baseball, and ran both track and cross country. I took my first weight lifting class during my sophomore year in high school. I started karate when I was 14 and practiced karate, taekwondo, and judo off and on for the next 10 years. I studied gung-fu with a Chinese master on the shores of West Lake during my year as an exchange student in Hangzhou, China (very, very humbling!). I learned to play racquetball in college and competed in several tournaments. I love to snow ski, water ski, hike, trail run, and play in the ocean. Sports and fitness continue to be an integral part of my life.
How did you first get exposed to CrossFit?
ordering accutane online reliable From Coach Daniel Carney at the Peak. Once he opened his own box I dropped my Peak membership and never looked back.
What was your first workout and how did it go? How did you feel after?
cheap generic mega accutane isotretinoin uk My first official CrossFit work out was Angie – the 100's. I thought I'd never get through the pull ups! I couldn't do a kip – I'd pull up to my chin or maybe only my nose…..forehead toward the end! It was one-by-one! I felt that work out for days afterward.
What's your favorite workout?
rx generic viagra I don't have one favorite workout but I'd say any workout with my fellow CrossFitters and friends where we all show up and work hard together. The group energy is very powerful and motivational.
Least favorite workout?
http://bluebells-restaurant.co.uk/?search=female-cialis-next-day-delivery Anything with overhead squats. Those kill me!
What sort of changes have you seen in your body, health and fitness since starting CrossFit?
http://maientertainmentlaw.com/?search=accutane-drug-major-side-affects The changes are profound. I'm in my late 40's and I feel stronger and better overall than I did in my 20's and 30's.
What sort of unexpected changes in your life have you experienced out of taking on something like CrossFit?
see We all know CrossFit is great for the body (we should anyway!) but I think it's also powerful mind training. Not only does your body and brain change physiological from CrossFit but your overall mental state improves significantly too.
Please share with us any favorite CrossFit Missoula moments:
http://bulluk.com/?search=levitra-users Too many great times to mention. Of course, the Spartan Beast was a blast with Daniel and my CrossFit buddies! It was a great test of our training! We all passed the test because we all finished! Recently we had a picnic and WOD on Salmon Lake which was a lot of fun. I also love playing Hoover Ball with our CrossFit Missoula crew.
Any advice for people just getting started or new to CrossFit?
go to link Just know that YOU WILL IMPROVE regardless of where you start. Accept where you're at with with your fitness the first day you walk in the gym, leave your ego at the door, and just show up ready to work regularly and the CrossFit "magic" will happen!
Anything else you'd like to share?
Clomid stimulating ovulation I plan to be doing CrossFit in my 90's! I might take a break in my 100's . . . probably not!