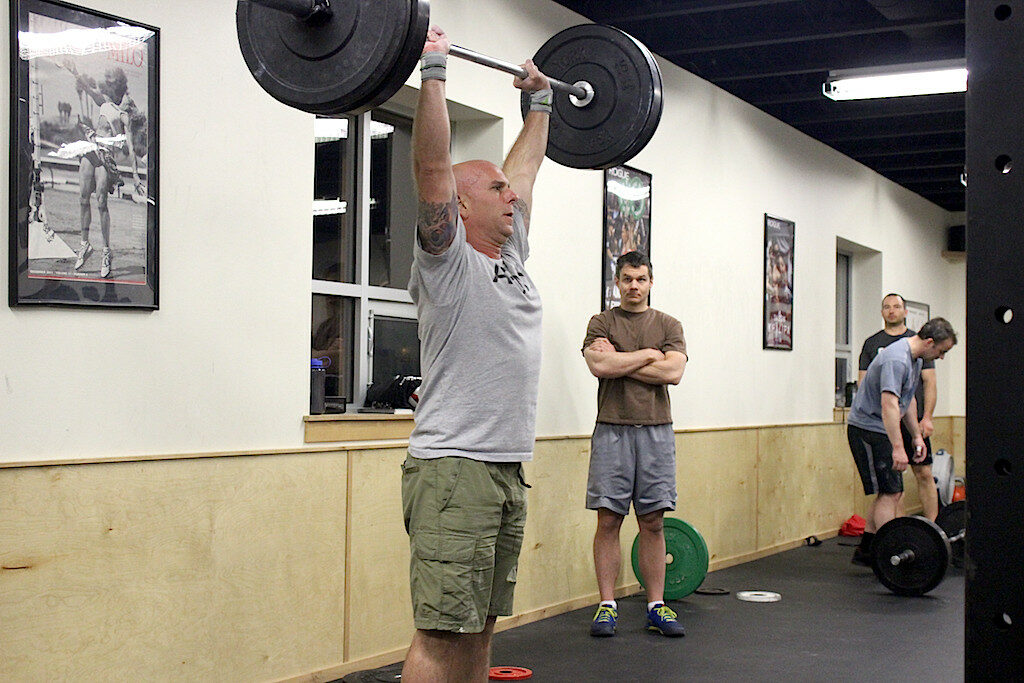 Tell us a little something about yourself: Where are you from? What do you do for work and fun? What is your sports & fitness background?
Originally from CA and have lived in MO, TX, LA.
I'm a Field Engineering Manager for a 911 Telecommunications Software company and a Part Time CrossFit Trainer!
I very much enjoy hunting and fishing but any activity that takes me outdoors with my family makes me very happy.
As a kid I loved wrestling (still do). I weighed 110 lbs my freshman year in High School so I gravitated to activities that played to my size: Wrestling, Tennis, Skiing. After High School I enlisted in the ARMY and began the standard PT regiment: Run, Pushups, Sit-ups – Repeat…
When did you first start training at CrossFit Missoula?
Lisa and I began in Feb. 2012
How did you first get exposed to CrossFit? Describe your experience.
Lisa swears I told her about CrossFit and I'm certain she told me but nonetheless she began corresponding with Daniel and set us up for an intro. We returned the following day for our first WOD – Fight Gone Bad! I remember feeling like I was going to die. I looked across the gym at Kelly Stensrud who was destroying the WOD like only Kelly can and thought "I need to do more of this, a lot more of this!"
What's your CrossFit "super power"? What are you good at?
I am very comfortable being upside-down so HSPUs, Handstand walks, Wall Runs etc play to my strengths.
What's your CrossFit "goat"? What skill or ability are you currently chasing?
I'm always working on my OLY technique and Coach Jacob has been a huge help but specifically I'm chasing a 300 Fight Gone Bad score and my 10th consecutive Muscle Up.
What sort of changes have you seen in your body, health and fitness since starting at CrossFit Missoula?
I'm bigger, faster and stronger. I have more energy and I'm generally more capable.
Please share with us any favorite CrossFit Missoula moments:
There are many but some of my favorite moments include: L1 Training Sessions with Daniel & Tysen, Spartan Racing, Competing in the Downtown Throwdown and the 2014 Memorial Day Murph Challenge. Looking forward to creating many more!
What advice do you have for someone just getting started with CrossFit?
Get involved. Come to events, gym parties and activities outside of the WOD. You will get to know some really amazing people.
Vary your training time slot. If you are a "morning person" hit an evening class from time to time and vise versa; acknowledge how your body responds to different training times. Learn from other coaches and members.
Is there anything else you'd like to share?
One of the reasons I love CrossFit is that it makes no difference where you come from, old or young, rich or poor – If you are willing to come in and leave everything you have "on the mat" you get to be part of a pretty cool Tribe!